Bob's SCUBA Shop has been serving divers from Hamilton and the surrounding area for over 60 years. With a fully stocked store room featuring some of the best brands of SCUBA gear and snorkeling gear in the industry, it is little wonder that we have become the dive shop of choice for both novice and experienced divers alike.
Among the diving gear available for purchase or rent are wetsuits, drysuits, wrist computers, masks, snorkels, fins, tanks, drysuits and much more. We also offer the latest styles and trends in apparel so that you can always look your best - in or out of the water.
We also carry all of your recreational swimming needs, from swim goggles, training fins, & swim caps.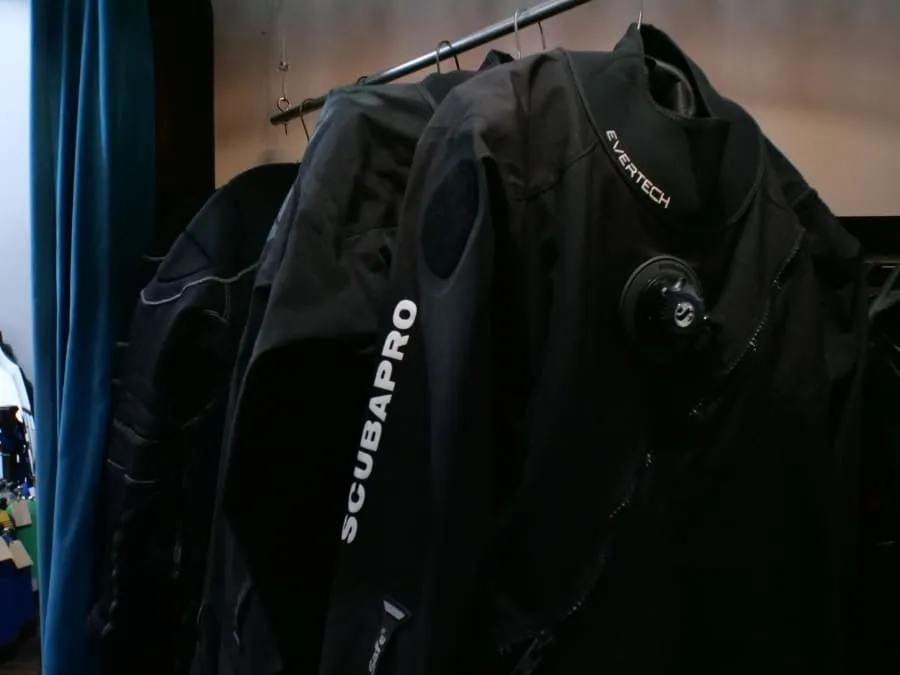 Why Choose Us?
Especially if you are not an overly experienced diver, a trip to a dive shop can be confusing. One wetsuit often looks as good as another; you may be unclear about the benefits of certain dive lights or wrist computers or you may have questions about which  tank is best for you.
At Bob's SCUBA Shop, not only do we have equipment suitable for a range of skill levels and types of dives, but we have friendly & professional sales staff who can explain the features and benefits of each piece of equipment and help you determine the best equipment for you.
Buy or Rent
If you are a frequent diver, no doubt there are some pieces of equipment that you will want to own. On the other hand, if you dive only occasionally or if you are going on a special dive that demands a special piece of equipment that you may never use again, then it makes sense to rent.
That's why we offer our customers the best of both worlds! Buy the equipment that you know you will use over and over again and rent the pieces you will use occasionally or that you simply wish to try out before investing in.
The best brand names in 
SCUBA

 and Snorkeling Gear

In our sixty-plus years in the diving industry, we have had the opportunity to see and try a wide variety of equipment and brand names and we have chosen the best of the best to offer to our clientele.

Brands we offer include Scubapro, Shearwater, Mares, Cressi, Genesis, Henderson,  Fourth Element, Kraken, Akona, Ocean Reef, Treasure Products, Trident, Gear Aid & much more.
Competitive pricing and unsurpassed customer service
At Bob's we offer some of the top SCUBA gear in the industry for purchase or rent - and we do so at competitive prices. No need to order from an untested long distance retailer online, when you've got this much selection right here in Hamilton!
We also back the products that we sell, honouring manufacturer warranties and providing inspection and repair service when necessary. Our high amount of return customers is a testament to the fact that we treat our customers like gold - because that's exactly what YOU deserve.
If you have any questions about any of the products that we have available for purchase or rent, then we invite you to contact us at 905-549-1043.
Brands

Made in Italy, Since 1946
The power of a brand is often measured in sales and revenues, and sometimes by its influence or diversity. In all these categories, Cressi stands at the top of the water sports industry. With five divisions serving four distinct markets--
scuba
 diving, snorkeling, spearfishing,  & swimming......We are proud to be a Cressi Dealer.

SCUBAPRO is the world's most iconic brand of dive equipment, built by and for those whose passion is found below the water's surface. For the hobbyist to the professional, SCUBAPRO's portfolio features industry-leading regulators, dive computers, BCDs and thermal protection, along with a full line of scuba & snorkel masks, fins, snorkels, gear bags, scuba accessories & divewear........We are proud to be a Scubapro Dealer.

Mares offers five main product lines, designed to meet the wide range of needs of water sports fans:
The classic Mares line, with products for all 

SCUBA

divers, including young divers
The XR - Extended Range line, designed for people who want to expand their interests to include more demanding dives
The Pure Passion line, for freediving and spearfishing fans
The Aquazone line, with products designed especially for swimming and snorkeling
The Diving Center line, with unique products designed with the specific needs of dive centers in mind
We are proud to be a Mares Dealer!

Shearwater Research Dive computers for demanding divers. Shearwater Research designs and manufactures computers for all types of divers demanding more from themselves and their diving experience. Whether you're an air, nitrox, multi gas trimix or closed circuit rebreather diver, Shearwater offers products which are powerful, simple and reliable....Proud to be a Shearwater Dealer.